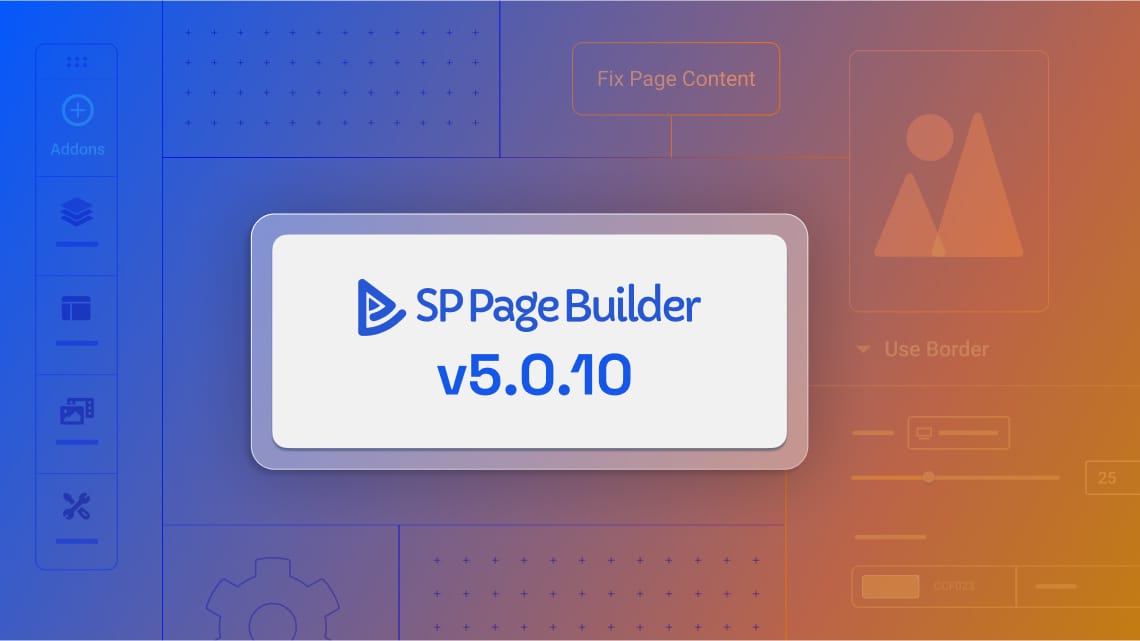 Good day SP Page Builder users! We're back with another update, featuring several enhancements and fixes to improve your experience with SP Page Builder. In the latest SP Page Builder v5.0.10, you'll find exciting additions such as a new feature to fix legacy page content and the introduction of a versatile border field.
Let's take a look at the changelog below to see what's in store.
SP Page Builder v5.0.10 changelog:
New: Implemented a feature to fix legacy page content for improved compatibility
New: Added a new "Border" field to enhance design customization options
Update: Enhanced the Articles Scroller addon by introducing a control wrapper and enabling indicator settings
Fix: Fixed multi-word search issue on page list page.
Fix: Fixed the team carousel item links
Fix: Fixed an issue with the Tab addon's icon or image options
Fix: Fixed a bug where accordion bodies were missing
Fix: Fixed the missing child issue within deep nested row in the layers panel
Fix: Included missing selector text and text-related settings for images and icons in the modal addon
Fix: Fixed issue displaying only the initial category in multi-select for article addon
Seamlessly Adapt Old Page Structure to the Latest
We understand the importance of maintaining compatibility with older content. That's why we've introduced a new feature to fix legacy page content. This ensures that your older page structure seamlessly adapts to our latest updates, so you can focus on creating, not troubleshooting.
The Article Scroller Addon Got Even Better
Our Article Scroller Pro addon just got better! We've added a control wrapper and enabled indicator settings, giving you more flexibility and options when showcasing your articles. Now, you can curate your content with even more precision and style and ensure an engaging reading experience for your audience.
Wrapping Up
In SP Page Builder v5.0.10, we've also addressed various bugs to ensure a smoother and more reliable user experience. We've resolved searching issues on the page list page, fixed column width resetting after layout updates, and addressed various known issues.
Update to the latest SP Page Builder version to enjoy a seamless website-building experience. Share your feedback in the comments, and stay tuned for more exciting updates ahead.
Get SP Page Builder 5Live Demo