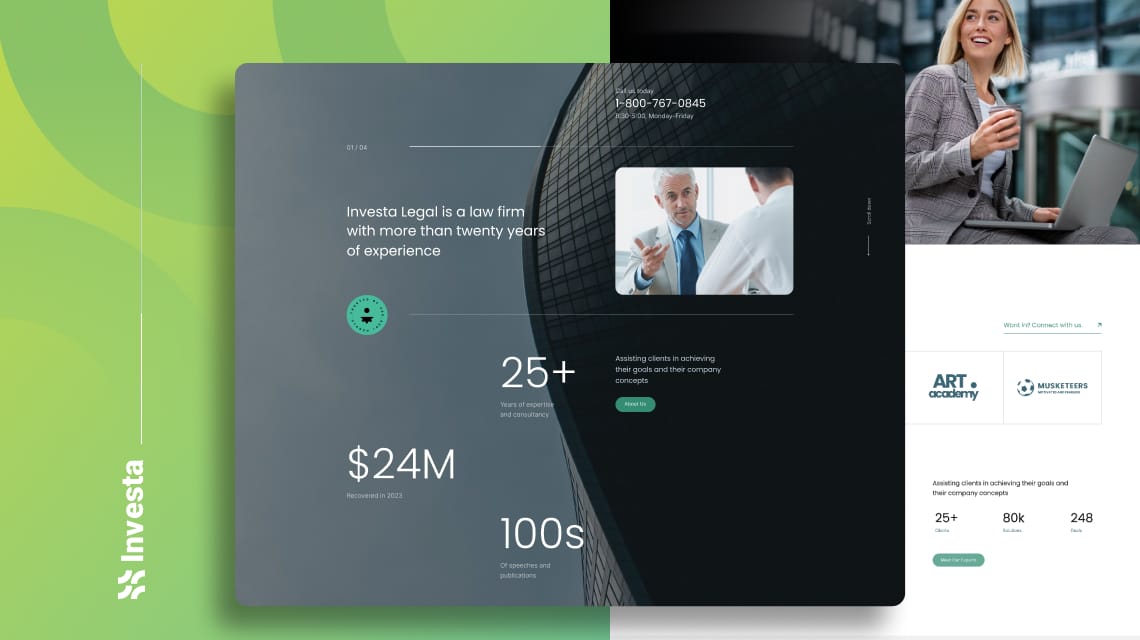 In today's age, having a perfect and functional online presence is essential for all niches. And your legal firms and consultancy-related businesses are no exception. To help you stay ahead of the competition, we are bringing your much-needed gateway to a modern, sleek, and fully functional template that you'll love!
Presenting to you Investa – A modern Joomla template to let you create amazing websites for your consultancy businesses, law firms, small businesses, and more.
Without further ado, let's dive in to find out what Investa has in store for you!
What's in Investa Joomla Template?
Investa offers multiple premade pages that are fully customizable and fully functional. Therefore you can enjoy maximum customization with Investa that you can mold to fit your needs!
Plus, enjoy the terrific capabilities of the latest SP Page Builder 5, Joomla 4, mighty Helix Ultimate, and PHP 8.0 to give the perfect customization experience.
Investa Key Features:
2 stunning home variations
Neat & easy-to-follow Mega Menu
Advertise your services in style
6 Blog page variations with Blog details
Multiple Portfolio page variations
Showcase your moments with Gallery
Dedicated Team & Career Pages
Built-in pages for quicker site launch
Dedicated support and documentation
SP Page Builder 5 Pro & Helix Ultimate
Joomla 4 & SP Page Builder 5 Supported
Take full advantage of all the features and enhancements of Joomla 4 while keeping up with the latest web trends!
The Investa Joomla template combines the power of Joomla 4 with the latest design trends, making your website development process a smooth and seamless experience. Not only that it is also fully compatible with the latest SP Page Builder 5 and PHP 8.0.
2 Stunningly Designed Home Variations to Allure Visitors
Welcome your visitors with an air of hospitality through Investa's remarkable Home pages. Investa comes with two variations that will comfortably fit all your requirements to take your business to new heights.
Law Firm: A simple, sophisticated, and impactful home page design perfectly tailored for your legal firms and law businesses.
Consultancy: A modern and elegant layout design, best suited for small businesses, consultancy firms, and investment companies.
Ignite Curiosity With Attractive Blogs
When it comes to instilling interest in your prospects and driving them to become your long-term clients, your brand and business stories are crucial.
With Investa enjoy 5 blog customization positions for the blogs pages to let you personalize your blog pages more effectively. Not just that, you will also receive three variations of the standard layout and three variations of the modern layout to choose from for your blog page.
Take Business to the Next Level With Attractive Service Display
Seeking the perfect method to promote your services effectively? Look no further than Investa's Service page, which empowers you to showcase your services exactly as you desire, without any distractions.
With Investa, expect to be amazed by an elegantly designed Service page that lets you display your business services in a grid style, along with a testimonial slider, and a clean, precise pricing plan presentation.
Elegant Gallery Pages to Showcase Proud Memories
Prepare to enjoy additional benefits with the Investa Joomla Template. You'll have access to two elegant and refined Gallery page variations, perfect for organizing your cherished memories and proudest moments.
Powered by SP Easy Image Gallery, the Gallery page variations showcase a masonry grid-style layout, offering ample space to showcase your favorite images and videos in a visually captivating manner.
Highlight Your Signature Projects With Case Details
Offer your visitors a comprehensive glimpse into your handled cases and a profound understanding of your proficiency. Investa includes an impressive Case Details page equipped with all the essentials to showcase your best cases most exceptionally.
Investa's Case Details page features a welcoming hero section, an accordion-style presentation of your key information, and abundant space for case descriptions throughout the page.
Dedicated Portfolio Page to Showcase Your Treasured Works
Offer glimpses of your finest works with Investa's Portfolio page. To let you manage and create your website in the best way, SP Simple Portfolio will be at your rescue.
Utilize the power of SP Simple Portfolio to effortlessly create and manage impressive portfolios. You have the option to choose from four variations of fully functional portfolio listing pages, each tailored to fit your preferences.
Additionally, the Portfolio Details page allows you to describe each of your showcased works individually eloquently.
Strengthen Credibility With the Team and Career Page
Provide your prospective clients with a profound understanding of our company's essence. Introduce your jocund team and at the same time, attract more talents to become part of your journey towards success!
Investa comes with individual pages for Team and Career, with two variations for Team pages to let you present our team members exceptionally. The Career page remains modern and minimal with job filters and an impressive hero section.
Built-in Pages for Quicker Site Launch
The Investa Joomla template is feature-packed with all the necessary pages required to reach your customers. And the best part of these ready pages is you can set them up by editing the demo contents only.
FAQ: A simple-designed page to let the site visitors swiftly get answers to their queries.
Terms & Services: Create guidelines for your visitors with the dedicated Terms & Services page that comes with room for featured images and more.
Sign up & Login: Make the online signup & login process simplified for your website visitors with the help of self-explanatory and user-friendly form fields.
Try Investa today and seize the opportunity to shine online with a website that depicts your utmost professionalism to potential clients. Also, let us know your thoughts in the comments below. Good luck!