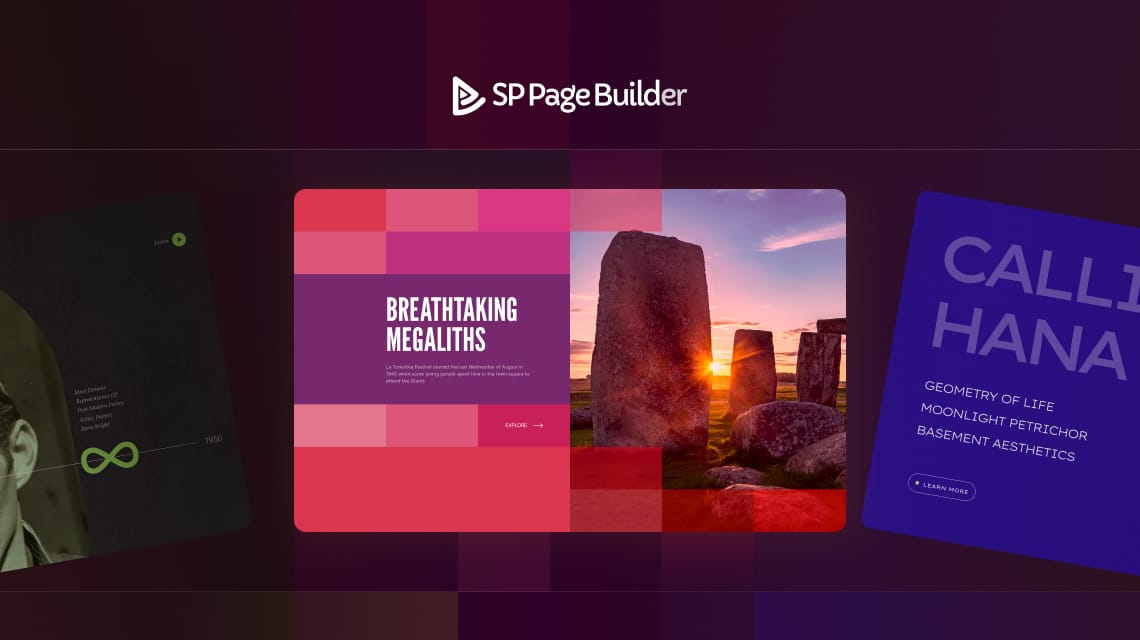 Leveling up your smart work just got more awesome! That too with SP Page Builder Pro's premade blocks! This time, we are bringing you a handful of fresh pre-built sections that will come in handy if you are looking to turbocharge your Joomla web page-creating process!
So what are these premade blocks and how exactly to access them? Let's dive deeper to learn more.
What are Premade Blocks?
SP Page Builder Pro has a vast collection of amazing pre-made blocks. These premade blocks are ready-to-use sections that you can use right away while creating your webpage. Since these sections are pre-designed and pre-built, you don't have to do much while using them! You can either use them just as they are or you can also customize them to fit your requirement. As simple as that!
12 New Pre-made Blocks Added to Our Growing Pre-Built Library
There were already a ton of ready-to-use blocks available for our SP Page Builder Pro users. Now, we're adding 12 new blocks to the mix. Make sure to check them out and see how you like them!
How to Access Premade Blocks?
First thing first, make sure you have your SP Page Builder Pro version downloaded and installed. You'll be able to access all the pre-made blocks from both the front end and back end of SP Page Builder.
From the Backend Editor
From the SP Page Builder Pro 5's dashboard, click on the page that you wish to edit. From the Add Elements option, go to the Sections Library tab. Here you can find the entire list of the available premade blocks. Browse through the various block categories, choose the block that best suits your needs, and drag & drop the selected block into your page!
From the Frontend Editor
From the SP Page Builder Pro 5's dashboard, choose the page that you wish to edit. Hover over the page and click on the Frontend Editor button. Once your frontend editor appears, go to the Layouts option from the sidebar editor. Choose the Blocks tab and all the available blocks will appear here. Select your desired block from the list and hit Insert. Your block will be added to your page right away!
Enjoy Streamlined Workflow Using Blocks
Building your webpage with blocks can enhance your workflow. Think of building a webpage with blocks like playing with physical building blocks. Just like arranging the building blocks in the right sequence can bring life to your imagined structure, using the premade sections in the right order can streamline your webpage building process, ultimately bringing your desired layout to fruition.
You can reap multiple benefits of blocks when used correctly:
Easy Arrangement: Choose blocks from different categories that fit perfectly to create your layout.
Quick Customization: Customize blocks without the hassle, saving you time and effort.
Faster Progress: The backend drag-and-drop feature makes adding blocks to your page a breeze.
Save: Your favorite or customized blocks can be used repeatedly just by saving them as a Section.
Reuse: Your saved blocks can be accessed and used anytime on multiple pages from SP Page Builder Pro's Saved Items > Section tab.
Tell us what you think about the fresh batch of brand-new blocks and let us know what else you'd like to see more of in the comments. Good luck!