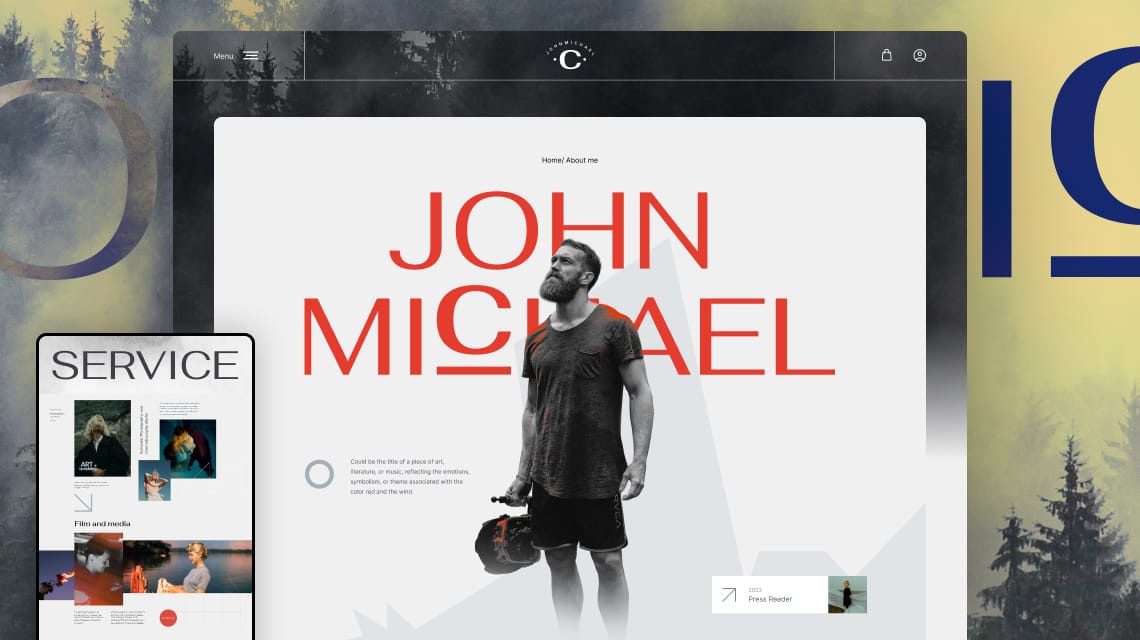 Are you a creative enthusiast seeking an impressive website to showcase your artifacts? And what if it comes bundled with a fully operational online store? You got it right. Prepare to be amazed because this time we're presenting you with an all-inclusive solution for your creative website, complete with a built-in online shop.
Meet Kreativa – a fully functional online store-based Joomla template for all creative entrepreneurs. With Kreativa you're not limited to just a regular portfolio site. Create a stunning portfolio website, display your creative works, set up an online store, and start generating revenue in no time!
What's in the Kreativa Joomla Template?
Kreativa Joomla template completely harnesses the power of EasyStore, making it the pioneering template to seamlessly integrate a fully functional online store. As a result, you can now access multiple convenient features, including product listing, in-depth product descriptions, shipping options, shopping carts, diverse payment methods, and much more!
Kreativa's predesigned pages also boast numerous valuable features, like a stylish off-canvas menu that complements the template's overall design, and a distinct footer with a social and Newsletter panel. With Kreativa, you can leverage the impressive capabilities of the latest SP Page Builder, powerful Helix Ultimate, and PHP 8.0, ensuring a seamless and highly customizable experience.
Kreativa Key Features:
Powered by EasyStore
Elegantly Designed Off-Canvas Menu
Sleek & modern layout concept
SP Simple Portfolio integration
2 Art & Photography-centric Home Variations
Dedicated Project listing & Project Details page
Blog pages to engage and entice
Effectively highlight services with Services page
Exclusive Gallery page
Speaker Reels & Press Release pages
Easy-to-navigate Booking pages
Fully functional online store, cart & payment options
Built-in pages for quicker site launch
Dedicated support and documentation
SP Page Builder Pro & Helix Ultimate
Harnessed by EasyStore
EasyStore is your go-to Joomla eCommerce extension, putting the power in your hands to build your online store from scratch and equip it with everything it needs for a lively online presence. It's packed with impressive and robust features like easy product creation, efficient inventory management, the freedom to choose your preferred payment and shipping methods, and more.
What's even better is that you can elevate your storefront's look and functionality with the dedicated SP Page Builder addons. Customize Kreativa's Shop and Shop Details page to your heart's content, making the most of EasyStore's fantastic features to create your perfect online shop.
2 Contemporary Home Page Variations
Looking for the perfect landing page to compliment and justify your exceptional creative talent? Look no further than Kreativa's captivating homepage options! Kreativa offers two pre-designed homepage layouts, each possessing a unique visual identity that aligns with your profession and character.
Home Freelance Artist: A distinct design concept with sudden flavors of striking colors will surely grab your users' attention. Artfully present your exhibition schedule along with ample space to include other information that you deem fit.
Home Photographer: Stun your audience with a stunning hero section with a video running in a loop. This home page design is a perfect solution in case you belong to any profession related to photography or videography.
Craft Your eCommerce Shop With Ease
Don't limit your creative works to mere visual displays! Utilize Kreativa's Product Listing and Product Details pages to create a fully functional and well-organized online store. With the Kreativa Joomla template, extend your reach beyond boundaries, and effectively generate revenue.
The Product Listing page includes an "Add to Cart" option, providing customers with a seamless shopping experience. Organize your products into categories, enable price filtering, and enhance the browsing process for your visitors, converting them to potential clients. Plus, display your product details with related items, product descriptions, and more!
Convenient and User-friendly Cart & Checkout Experience
Effortlessly add your desired items to the shopping cart and smoothly proceed through the checkout procedure. The cart and checkout pages are backed by EasyStore, ensuring a smooth experience for your cherished visitors.
Kreativa offers a distinct cart panel view on the product details page, so your customers can easily manage their selections. Also, offer your clients the convenience of selecting from multiple payment methods during the checkout process. Additional facilities include adjusting product quantities directly from the checkout page, providing a user-friendly and efficient shopping experience, and more!
Press and Speaker Reels Pages to Boost Interaction
Got some captivating speaker content and remarkable press coverage that deserve the spotlight? Harness the power of the impressive Speaker's Reel and Press pages to showcase your expertise, talents, and media accolades.
These dedicated pages, designed separately for your Press highlights and Speaker's Reel, boast a visually striking design and seamless navigation. They offer the perfect platform to emphasize your speaking topics, showcase your press mentions, and share interviews.
Booking Pages to Escalate Conversion
Move closer to securing better deals and boosting your conversion rates by leveraging Kreativa's Booking page. Present a comprehensive list of your services and encourage visitors to effortlessly reserve their preferred time slots.
Benefit from the sleek and contemporary design of Kreativa's Booking page and Booking Details page. Ensure a hassle-free experience for both you and your clients with a simple appointment set-up system.
List Out Your Distinctive Offerings Using the Service Page
To guarantee that your creative pursuits make a lasting impression, it's crucial for your visitors to grasp the nature of your offered services. Make the most of Kreativa's Service page to highlight the specific services but in style!
Kreativa's Service page lets you categorize your services, with an exceptional layout offering space for striking images and concise descriptions for each of the services you provide. This way, you can effectively communicate the scope and value of your offerings to your audience.
Exhibit Creativity with a Stunning Gallery
Showcase your finest creations to introduce both yourself and your cherished pieces to your audience. Kreativa offers a readily available Gallery page that ensures a seamless online presentation of your top works.
Enjoy the powerful features of SP Simple Portfolio filter and organize your images based on different categories, making it easier for your visitors to navigate and appreciate your diverse range of works. With its user-friendly design and intuitive categorization features, it becomes a valuable tool in your journey to share and promote your treasured pieces with your audience.
Share Mesmerizing Stories With Blogs and Blog Details
The artistically Designed Blog and Blog Details page will surely captivate your visitors and encourage them to delve deeper into your wealth of creative knowledge, expertise, and experience. The placement of imagery throughout the Blog Details will keep your readers' attention focused on the article until the end.
The pages come bundled with a hero section featuring a slider for a stunning visual appeal and the incorporation of eye-catching feature images that leave a lasting and impactful impression.
Built-in Pages for Quicker Site Launch
The Kreativa Joomla template is feature-packed with all the necessary pages required to reach your customers. And the best part of these ready pages is you can set them up by editing the demo contents only.
Terms of Services: Create guidelines for your visitors with the dedicated Terms & Services page that comes with room for featured images and more.
FAQ: A simple-designed page to let the site visitors swiftly get answers to their queries.
Login: Make the online login process simplified for your website visitors with the help of self-explanatory user-friendly form fields
So what's the wait for? Get Kreativa today, set up your exceptional online presence, and take your creative business to the next level! Don't forget to let us know your experience as you embark on your journey with Kreativa!
Learn MoreBuy Now