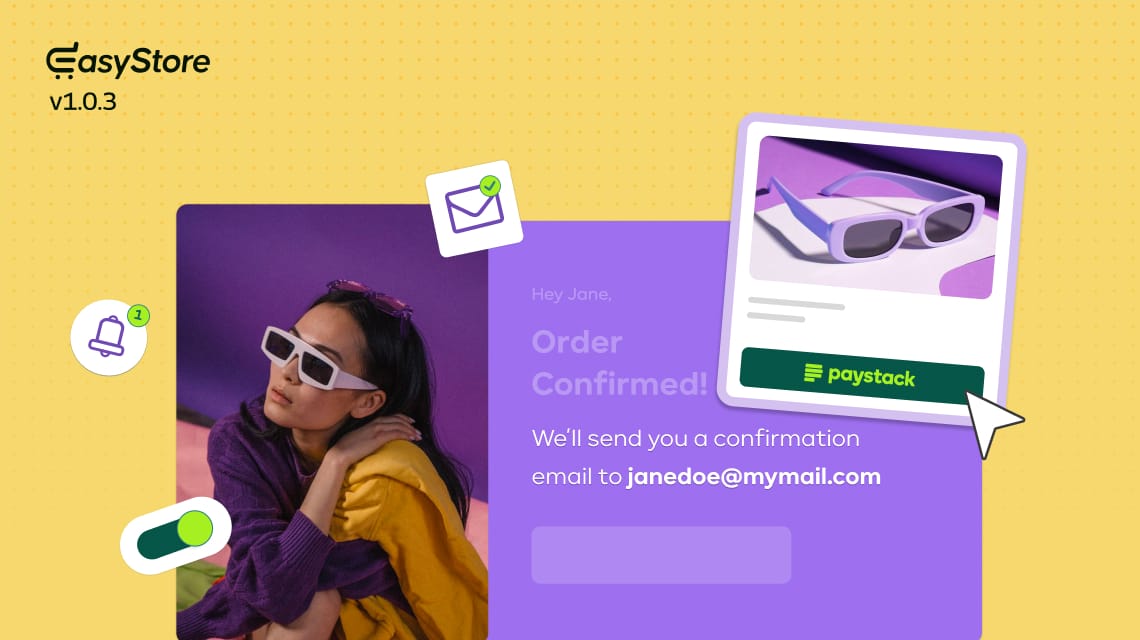 With our unwavering commitment to making online selling more convenient for you, we're excited to release EasyStore v1.0.3.
This update is packed with exciting additions like predefined email notifications, support for a new payment gateway, enhanced access control level, and much more. All are well-crafted to provide you with more convenience and flexibility in managing your online store.
Let's find out what this update has in store!
EasyStore v1.0.3 Changelog:
New: Added predefined email template management in the Settings tab
New: Introduced Paystack Payment Gateway
New: Store Contact Details Settings
Update: Improved Access Control Level.
Predefined Customizable Email Templates
No more manual crafting of emails for different scenarios. Choose events and effortlessly send automated email notifications to customers at various stages of their interaction with your online store.
From order confirmations to shipping updates and beyond, EasyStore's predefined email templates ensure that your customers receive timely and relevant emails, creating a seamless shopping experience.
You can also personalize your email to create meaningful connections with your audience.
We have added the ability to customize email templates based on available variables and send test emails so that you can dynamically adjust your email content to reflect specific events.
Introduced Paystack Payment Gateway Support
We are in the process of adding a variety of payment options to cater to your diverse customer base. And with today's update, we're excited to introduce Paystack Payment Gateway support with EasyStore.
Paystack facilitates businesses in Africa to receive payments from anyone, anywhere in the world. This addition provides your customers with another secure and efficient way to make payments, enhancing their shopping experience.
New Store Contact Details Settings
With the all-new EasyStore's "Store Contact Details" in Settings, you can effortlessly customize your store's name, email, and phone to showcase your brand's identity and build trust with your customers.
Boost your professionalism and enhance your support capabilities with this user-friendly feature.
Improved Access Control Level
In this update, we've also taken steps to enhance the Access Control Level. Now you can effortlessly create and manage user roles and set different access levels for each role.
Just like the familiar user group management system found in Joomla, you can now employ a similar level of control in EasyStore. For instance, for your "Manager" user group, you can grant specific permissions like product creation & editing.
Your eCommerce management can now be finely tuned to your specifications, making access control a breeze.
Update Now!
With these updates, EasyStore continues to empower you with a feature-rich and secure eCommerce platform. We're committed to supporting your online business growth, and this release is just one of the many steps we're taking to make your eCommerce journey even more enjoyable and successful.
Thank you for choosing EasyStore, and we look forward to bringing you more exciting updates in the future.